Figures just released in the BMF's Builders Merchants Building Index (BMBI) show positive sales growth through UK builders merchants during the first quarter of the year. Total Q1 sales were up +5.9% compared with the same period in 2018.
Landscaping products saw the strongest annual value growth (+15.6%). The two largest product categories also performed well with Heavy Building Materials up +6.8% and Timber & Joinery Products rising by +6.6%. Sales in all three product groups were adversely weather-affected in 2018 so a stronger performance during a relatively mild, dry winter was to be expected.
There was a mixed picture for interior product groups, with Decorating rising by +4.3%, Ironmongery up +2.3% and Kitchens & Bathrooms up +1.1%, but Plumbing, Heating & Electrical showed a marginal decrease at -0.2%.
Comparing average sales a day in Q1 2019 and Q4 2018 also shows winners and losers. Sales of Landscaping Products grew by 1.9%, while the small Renewables & Water Saving Products category showed the highest increase at +6.6%. However, with sales values in both the largest categories – Heavy Building Materials and Timber & Joinery Products – dropping by -3%, Total Quarter on Quarter Sales were down by -3%. Kitchens & Bathrooms outperformed the average with a decrease of -0.3%, while Decorating (-3.9%) and Plumbing, Heating & Electrical (-4.0 %) both underperformed.
However, the comparison of month on month average sales a day (March v February 2019) was largely positive. Total Month on Month sales were up by +6.5%, led by Landscaping at +27.7%, Renewables & Water Saving (+13.9%) and Heavy Building Materials (+6.8%). Decorating (+5.6%), Timber & Joinery (+4.6%) and Kitchens & Bathrooms (+1.5%) also saw sales value growth, but Plumbing, Heating & Electrical was down -0.6%.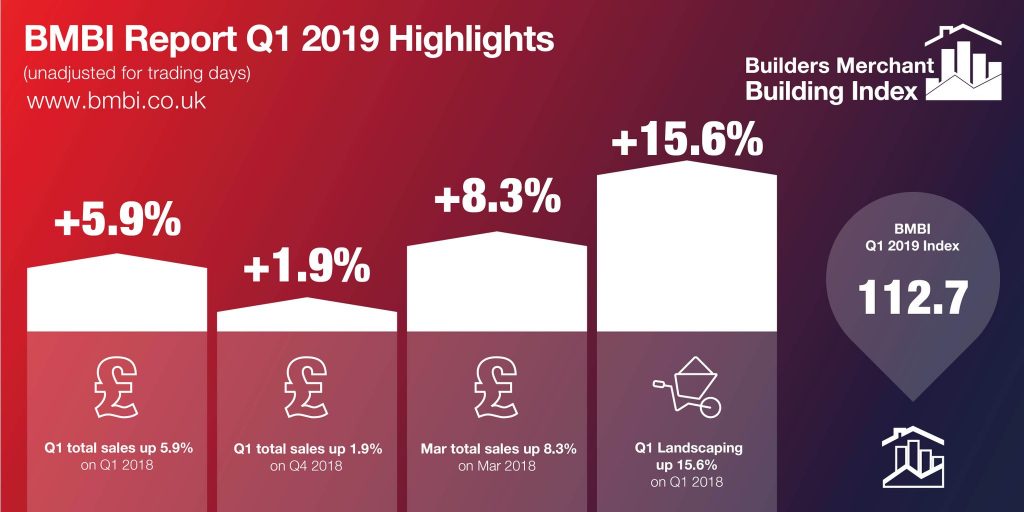 Overview and Insights Richard Frankcom, Key Account Director, GfK
Still a part of the EU and uncertainty playing havoc with investment for many UK business, it would have come as little surprise if I'd been reporting a slow start to 2019. However, on a yearly like for like basis, quarter one 2019 delivered great growth. The total market was up 5.9% in value terms for the quarter. It was driven by Timber and Joinery up 6.6%, Heavy Building Materials up 6.8% and Landscaping flying high with value growth of 15.6%.
This growth can be attributed to a couple of factors. Firstly, and mainly, there was a much better start to the year from a weather perspective. Last year, January was a little warmer but much wetter, and the 'Beast from the East' hit late February and early March with the 'Mini Beast from the East' coming back to disrupt later in the month. This forced the trades to down tools and move inside, delaying the start to many projects. Additionally, 2019 gains can also be attributed to a late Easter as 2018's Good Friday fell on the 30th March, further hitting the end of an already poor trading quarter.
We can see this impact clearly in the March numbers for 2019 as external work-related sub-categories thrived. Bricks, Blocks & Damp proofing and Cement & Aggregates, the two biggest individual Heavy Building sub-categories, and Timber the biggest sub-category in Timber and Joinery, all delivered more than 10% value growth for the month year-on-year. Landscaping saw an even greater increase with the total category growing 25.6% in March year-on-year, with the largest gains in Fencing, Decking and Garden Walling & Paving.
This time last year, I wrote that we'd be judging the year by how Merchant's quarter two performed, and would we see a recovery from the weather damaged start to the year? We did. This year it's more about how the political situation will affect consumer and business confidence. With value growth still outstripping volume, inflation will be putting the squeeze on already cautions consumers. They are a substantial proportion of the repair, maintenance and improvement market for SME tradespeople, and any slowdown in house prices may slow the larger housebuilders' land turn, which will further hit trade. Time will tell, but some political clarity would really help.
Merchants' View John Newcomb, CEO BMF
Another quarter where Brexit dominated the news agenda. By now the UK should have left the EU giving businesses and homeowners alike some clarity regarding the shape of our post-Brexit economy. Instead, the uncertainty will continue for at least one more quarter of the year, if not more. Do we have any indication how this is likely to impact merchant sales?
The continuing uncertainty over the UK's withdrawal from the EU prompted the Construction Products Association (CPA) to downgrade its forecasts for UK construction activity. In February the CPA forecast marginal growth in 2019 of 0.3%. In April this was revised to overall construction falling by 0.4% this year.
That said, the worst affected sectors are likely to be those requiring high upfront initial investment, commercial offices and industrial factories. The CPA noted that smaller domestic projects have been less affected by Brexit uncertainty as households have switched off from reading about it. While employment is high and real wages rising, homeowners continue to spend and this positive trend is reflected both in the BMBI figures for Q1 and in those from the Office of National Statistics (ONS).
The ONS reports construction output increased by 1.0% in Q1 2019, driven by repair and maintenance output which increased by 2.9%. Within this, private housing repair and maintenance performed even better, increasing by 4.0% over the previous quarter.
A note of caution was sounded in the Federation of Master Builders' Q1 State of Trade Survey which found that workloads for SME construction firms have taken a dip for the first time in six years. More respondents (29%) stated lower workloads in Q1
2019 compared with the final three months of 2018 (13%). However, this could be a blip, as their expectations for the future strengthened with 41% of FMB members forecasting higher workloads in Q2 2019, up from 33% in Q4 2018.
While we are still living in uncertain times, overall the picture remains fairly positive for our sector.