The ongoing economic and political uncertainty linked to Brexit is a major factor in the revised Builders Merchants Industry Forecast of merchant sales, with a drop of -1.8% in expected growth for 2019 over 2018.
Published by the BMF the Q2 baseline forecast predicts year on year annual sales growth at 3.0% (revised down from the predicted growth of 4.8% in the Q1 Forecast).  The BMF Forecast also includes scenarios based on a soft and hard Brexit, downward revisions here show annual growth at 2.9% (previously 3.8%) and at 2.6% (previously 3.4%) respectively.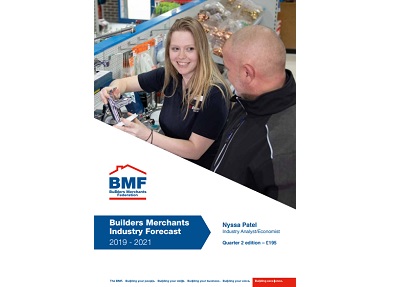 Our weather is another contributing factor within the forecast. The impact of the Beast from the East experienced in Q1 2018, slowed sales in Q1 last year, with a subsequent boost in Q2. The boost seen in the second quarter last year is not likely to be reflected this year with the baseline forecast showing an expected -0.7% decline in Q2 2019 sales over the same period last year.
The Builders Merchants Industry Forecast is a comprehensive analysis of merchant market performance from July 2014 to April 2019 coupled with an analysis of the key factors affecting builders' merchants' sales to project future sales from May 2019 to December 2021.
If you would like to be the forecast in PDF format…
A PDF edition of the 36pp Q2 Forecast (July 2019) can be purchased for £195 + VAT. Contact Nyssa Patel, BMF Industry Analyst/Economist on 02476 854994 or email nyssa.patel@bmf.org.uk.