The Builders' Merchant Federation (BMF) has published the first edition of the Builders Merchants Industry Forecast, covering the period 2019-2021.
The BMF's new forecast model has been developed to support members in future planning by providing consistent updates on forecasted industry sales. The data will be updated on a quarterly basis. The initial report is a special Brexit edition and includes forecast results based on both a soft and hard Brexit. The report and quarterly updates will be supplied free of charge to BMF members. The Builders Merchants Industry Forecast will also be available for others to purchase, with the initial report priced at £295.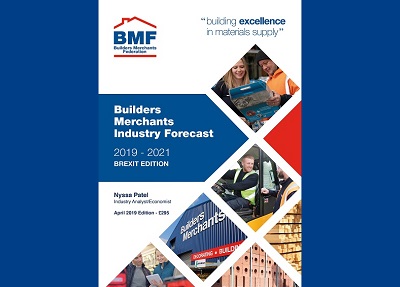 John Newcomb, BMF CEO said, "Our new Builders Merchants Industry Forecast will help BMF members and others involved in building materials supply to plan for the future. Most forecasts tend to be based on lag indicators. Essentially, they use what happened last year to predict what could happen next year. The BMF model incorporates a number of lead indicators to signal future events that will impact our markets and makes it possible for merchants and their suppliers to forecast their customers' requirements more accurately."
The BMF's econometric forecast model was developed with the support and assistance of the EU KEEN project and Dr. Erez Yerushalmi, Senior Lecturer in Economics at Birmingham City University. The model uses accurate sales data from the Builders Merchants Building Index (BMBI) as the main sales variable coupled with other key variables to forecast what is likely to happen in the next 12 months and beyond. BMBI data is collated monthly from 80% of generalist builders merchants sales throughout Great Britain and analysed by research company, GfK. It is the most accurate sales date within the construction industry.
Builders merchants sales are affected by a number of internal and external factors relating to the wider UK economy. During development over 20 other variables were tested to analyse their correlation with the BMBI. The final forecast model is based on the five variables that indicated the highest level of correlation with builders merchants sales, namely: Repair, Maintenance and Improvement, Weekly Household Income, Season, All New Work, and Number of trading day (per month). Within the model, variables are forecasted using an Auto-Regressive Integrated Moving Average (ARIMA) model, which is ideal for analysing time series data.
In addition to detailed forecast results and analysis, the Brexit edition of the Builders Merchants Industry Forecast includes merchant industry insights and wider economic indicators.
For more information contact Nyssa Patel, BMF Industry Analyst/Economist on 02476 854994 or email nyssa.patel@bmf.org.uk